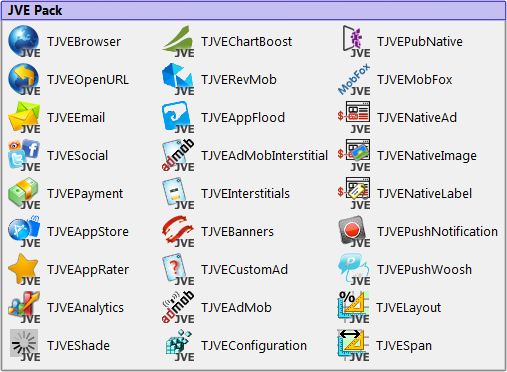 This Delphi XE4 – 11.2 Alexandria cross platform component suite, by JVEsoft ltd., features 28 components (8 controls and 20 non-visual components) and provides access to a wide array of features, expected from modern applications.
The components provide the following general functions:
Variable screen-size oriented layout
Embedded browser
Email sending
Twitter, Facebook and SinaWeibo sharing
In-App purchases (via AppStore, Google Play, Windows Store and/or PayPal)
Viewing products in AppStore and Google Play
App Rating reminders
Google Analytics

Chartboost, AdMob and Facebook (Audience Network) interstitial advertising

AdMob and Facebook (Audience Network) banner advertising

MobFox and PubNative native advertising

Generic banners, native and interstitials support
Push notifications (raw requests or via PushWoosh service)
Persistent storage and in-progress app shading
All the components can be used on all the platforms, supported by Delphi XE4 – 11.2 Alexandria (Android not being available in Delphi XE4; some functionality not available in XE5): iOS Device, Android, Mac OS X and Windows (Windows Store integration is only available since 10.3 Rio), except for Linux.
Not all features are supported on all platforms (for example advertising is only available on mobile), but fallback features are provided (fallback to in-house ads, for example) and no component will fail on a wrong platform.
All these components were thoroughly checked in Delphi 11.2 Alexandria and running on a real Windows 7, 10 and 11, Mac OS X 10.8.4 – 13.0.1, various Android phones and tablets, iPad, iPhone and iPod Touch (however no warranty implicit or explicit is provided with this suite).
Here is what you will find inside the package (see Package Content section for details):
Runtime package, compiled for Debug and Release for all platforms
Design Time package, compiled for Debug and Release
Well commented source code for the entire pack (about 19,000 lines)
Where needed, instructions on making it work
Original Chartboost, Audience Network and AdMob libraries
Demo App – a simple app showing some of the modules of this pack in action